Sunspel and Matt Blease
Matt Blease's illustrations distil the world into simple lines, capturing the amusing moments and idiosyncrasies that make life worth living. His skill at doing so has led to great success within the industry and he's worked with a range of brands including Nike, the BBC, Coca-Cola and the Guardian. For our summer capsule, Matt created several illustrations which explore the quintessential humour at the heart of the British summertime. They're found on our Camp Collar Shirt, Riviera T-shirt, Canvas Tote Bag and SEAQUAL swim short. We chatted to Matt to find out a little more.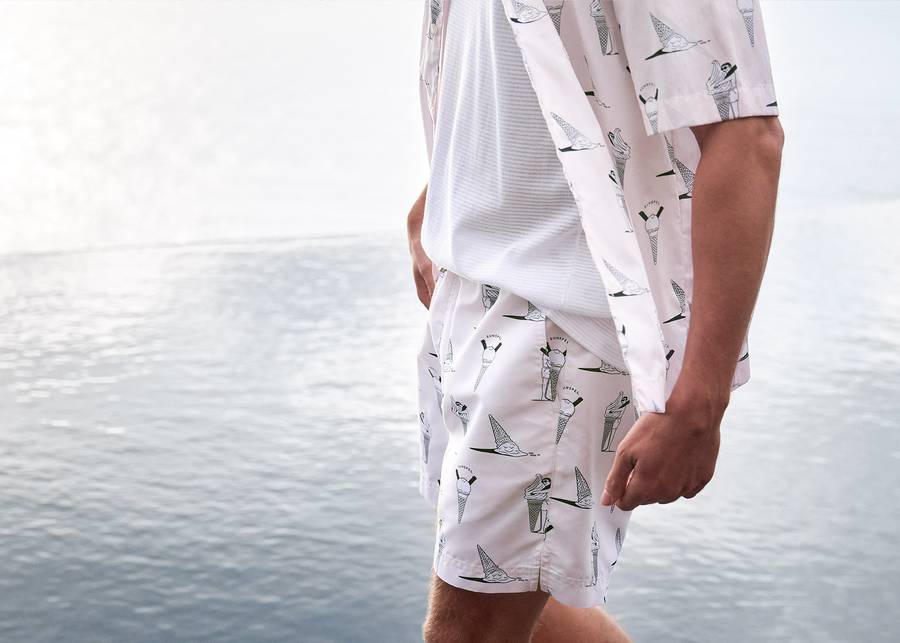 Your illustrations are great at finding these hilarious moments in life. Can you tell us a little more about your creative process?
I find you have to be a sponge all the time and whatever you're doing, you've got to be absorbing, absorbing, absorbing. Then, when you need something, you squeeze that spongeand all that stuff comes out. So I guess my process is just looking listening, absorbing all the time, enjoying people and weird conversations that you overhear and just dumping it down on paper. It's about trying to find those sweet, beautiful moments that you can highlight when you're drawing.
What would you say your style is?
The actual style of my work could be any style I think. The idea or the feeling is my style. It happens to look like it does at the moment but maybe in ten years it won't. Those ideas and feelings will hopefully always feel the same though.
Who are your main inspirations?
The great illustrator Saul Steinburg for sure. He's basically the goat. He's amazing. Even though he was around in the 40s, 50s and 60s, his stuff is still so relevant. If I could be like him I'd be happy.
My dad was a big influence too. He'd make the worst dad jokes all the time, really cringeworthy stuff. You'd be in public and just dying inside! But really he was just being clever with words and a lot of my work is basically playing with words and repurposing situations so that definitely comes from him.
What's your favourite piece of your own work?
It's probably the work that's still in my head! There are a lot of personal projects that are fully formulated in my head. I can see exactly what it looks like, I just need to do it. Basically, I haven't messed it up yet!
How did you come to work with Sunspel?
They approached me which was really exciting. I was aware of Sunspel for years and years. I used to work at Liberty and had heard of them through that because of the British luxury thing. Sunspel's a great brand to work for, so it was an instant yes. There's a clean slate vibe. They don't do much illustrative work so as an artist you've got a blank canvas.
What was the inspiration behind these drawings?
Being quintessentially British! I find the whole thing of a British summertime quite amusing. We don't really have one. All my summer holidays were spent in Britain on caravan holidays down to the beach or up to Scotland so the capsule's about chasing a summertime that's never quite there.
There's our obsession with ice cream which I think is unrivalled anywhere in the world. I was walking through Richmond Park recently and saw people eating ice cream. I couldn't believe it… it was snowing! We just love it so much. The weather also plays a big part of course, and our obsession with it. There's a Michael Fish reference in there. He was the weatherman who didn't predict the worst hurricane to hit the UK in 300 years! So it's all about trying to capture some of those amusing bits.