The Guide to Sunspel's Cashmere Collection
There is a great deal of cashmere on the market but not all of it is good quality. Here we explain why our Scottish cashmere is worth investing in and which styles we offer.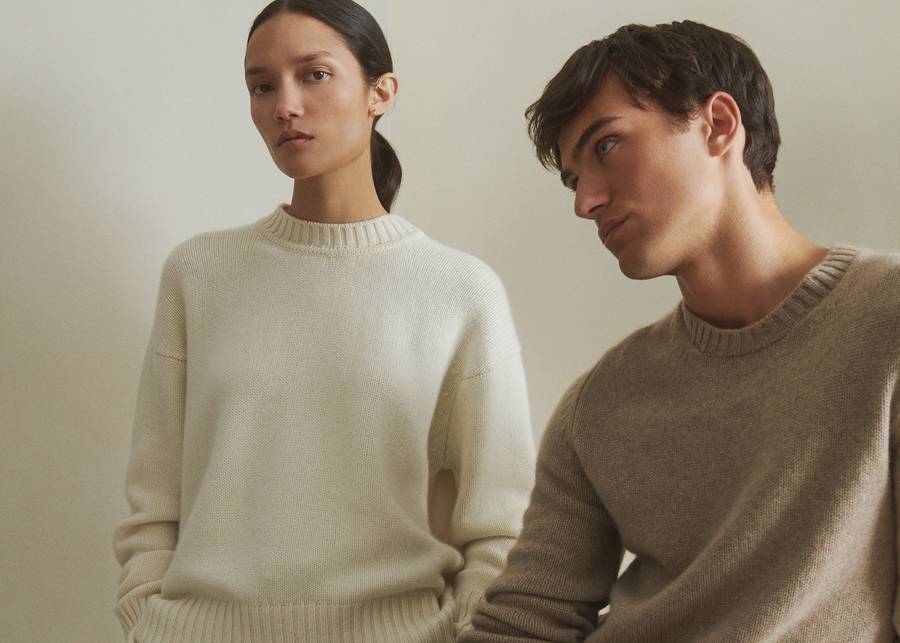 Cashmere is the world's most luxurious wool. Its exceptionally fine micron makes it so distinctively smooth and lightweight that from just a simple touch you can tell immediately you're feeling cashmere. For sheer warmth and comfort, there is no better material and if it's well-made and well-cared for, it will last a lifetime too. 
At Sunspel, we've been working with cashmere since we were founded in 1860. Today we ensure ours is ethically sourced from traditional nomadic herders and we only use the highest quality Grade A, 15.5 micron yarn which comes from the softest white hairs of the goat's underbelly. We work with one of Scotland's oldest spinners and they wash the cashmere in natural spring water to open the fibres and make it even softer against the skin.
We have a wide range of cashmere pieces from jumpers to lounge pants, socks and scarves. Whether you're buying for a loved one or treating yourself, we've compiled a list of some of our top picks to help you.
Take a look at our Cashmere care guide too to remind yourself how best to look after your new purchase or read our piece on why Scottish cashmere is the best in the world.
This is the pinnacle of luxury knitwear. Crafted in Scotland from a heavy gauge of the highest quality cashmere, it's remarkably lightweight despite being thick and sumptuous. The sheer quantity of cashmere makes this a pleasure to wear and the exceptional quality of craftsmanship that goes into each one ensures that it will be the finest jumper you own for many years to come.
A perfect everyday cashmere piece, the versatile half-zip style makes this formal enough for work but it is so comfortable you'll want to wear it lounging at home too. Like the Roxburgh Jumper, it's made with the finest yarn in Scotland.
Similar to the Zip Neck, this jumper is a versatile, timeless classic that will be a wardrobe staple. It's lightweight and soft and it can even be worn in summer – the quality of cashmere means that although it will keep you warm in winter, the fibre is cool against the skin in warmer weather.
Clothes designed to feel simply amazing are more popular than ever. Our cashmere lounge pant is exactly that. Perfect for long-distance travel or long days spent on the sofa, these are made in Scotland from pure Grade A 15.5 micron cashmere and they are as comfortable as it gets. Pair with the matching cashmere hoody for a full set.
Our cashmere socks, gloves, scarves and hats mean you can ensure that every last inch of your body is covered in your favourite wool. Available in a range of colours, these are perfect for gifting, either to loved ones or yourself. As winter approaches, you certainly won't regret the latter…
The overcoat is a timeless winter essential. It should last a lifetime so it's always worth buying one that's high quality and will continue to look impeccable in years to come. This beautiful piece is made in an Italian wool-cashmere mix. The wool gives the coat extra durability while the cashmere makes it soft and luxurious. Its cut is unstructured so it has a contemporary, elegant look.