What makes the Mock Neck T-shirt stand out
We've been perfecting our T-shirts for over a hundred years. Today, we've got several styles, weights and fabrics and one of our most popular is the mock neck. We take a look at what makes our two mock neck styles special.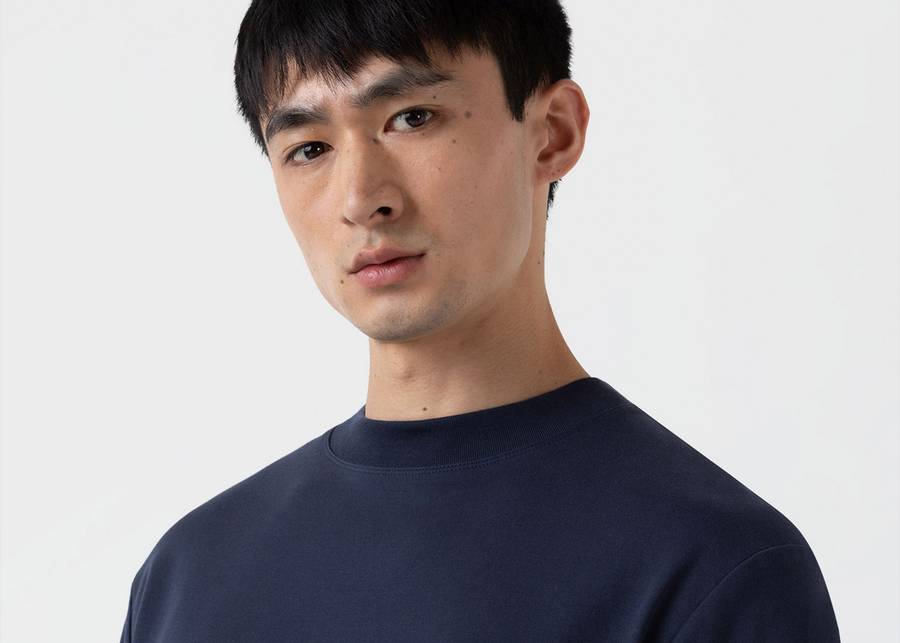 What is a mock neck?

A mock neck T-shirt is one that has a higher fitted collar that comes further up the neck than other collar styles. It has a contemporary, relaxed feel with a subtle athletic look and it sits snugly around the base of the neck so is very comfortable to wear.
What's the difference between Sunspel's two styles?
We offer two mock neck T-shirts. The first is crafted from an extra-long staple Supima cotton fabric that is the same as our iconic Classic T-shirt. We've been refining this fabric to perfection for over a hundred years and it's light, airy and crisp with a silky feel on the skin. With the mock neck collar, it's easily wearable on its own and is an ideal summer T-shirt.
The other comes in a brushed cotton fabric. This has a heavier feel and is much thicker making it perfect for the cooler months though it can be worn all year round. The fabric is crafted from the finest long-staple cotton and it's lightly brushed to give an exceptionally soft finish.
How should you style a mock neck?
Mock necks are very versatile pieces and can be worn all year round. Both our styles have the same oversized, boxy cut which makes them modern and casual. They look just as good on their own as they do layered under other pieces and they can easily be dressed up or down. For a smart-casual look, wear with an unstructured linen suit or with a blazer or jacket duringthe winter. For a more relaxed look, wear with a Japanese Selvedge Jean or a pair of Chino Shorts.
However you wear it and whichever style you decide to go for, you can be certain that yourswill be comfortable, versatile and durable. It will be a foundational piece in your wardrobe this season and for many more to come.