Sunspel x WM Brown
This season we collaborated with Matt Hranek, founder of the men's style magazine WM Brown, to create a modified version of our iconic Riviera Polo specially designed to be worn under a blazer.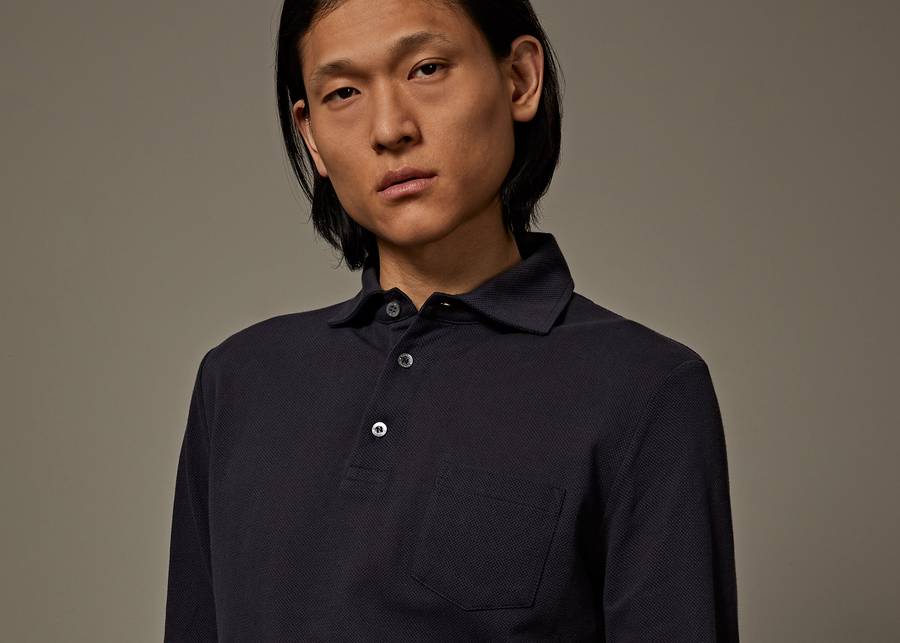 The Riviera Polo Shirt is a modern icon. It was first designed in the 1950s by Peter Hill, the great-grandson of our founder, as a cooler, more comfortable version of the pique polos common at the time. It was tailored in 2005 by Lindy Hemming, an award-winning stylist and designer, for Daniel Craig in his debut performance of James Bond. Today it's still one of our most popular products.
There are two main things that make it such a unique piece. The first is the fabric. It's crafted from a luxuriously smooth, lightweight and breathable Supima cotton mesh - a Sunspel invention – which is perfect for warm weather. The other is its cut which is flattering, casual and effortlessly stylish. In this collaboration, we've slightly tweaked the detailing to create a more formal piece.
Hranek is a well-dressed man who spends his life seeking out the finest things in life and his magazine, the WM Brown Project, is about exactly this. Hranek is a longstanding fan of the Riviera Polo and he still wears the same one he's had for nearly 20 years. "It is the best short sleeve polo shirt ever made," he says, "It has always been part of my travel arsenal. My only critique of it is I wish it had a taller standing collar so it would present itself a little better under a blazer or a jacket."
| | |
| --- | --- |
| | |
We worked with Matt to realise his vision, creating a version with long sleeves, cuffs and a cut-away standing collar. The lightweight Q75 fabric makes it light and easily packable while keeping you cool in the heat. Matt suggests wearing it under a safari jacket at the pool bar, or for dinner, under a double-breasted blazer or your favourite suiting. Unlike a shirt it doesn't require a neck-tie, "although you could wear a neck scarf underneath," Matt says, "to kindadowel it up as they say." Equally, it looks just as good on its own. The long sleeves mean you can roll them up during the day and roll them back down when it gets cool in the evening.
"Its versatility is bulletproof," Matt explains, "It packs and unpacks really well. It doesn't wrinkle and can substitute for proper shirting. It's one-stop shopping."